Posted on
May 2, 2008

by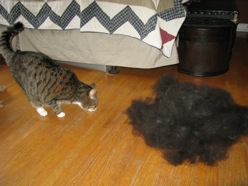 The above photograph is of the fur I brushed off of my dog yesterday (shown with cat to illustrate scale). This happens twice a year, every year, and it's just par for the course when you have a 95lb German Shepherd (aptly nicknamed German Shedders) with a long stock coat.
But the sheer magnitude of said sheddings made me think twice about just tossing it in the trash. Apparently, I'm not alone.
This lady made a dog collar out of her dog's hair.
This man thinks that dog hair could be used to end our energy crisis.
Some people make sweaters out of their dog's hair. There's even a book about knitting with hair from your dog. If you don't want to spin your own yarn, you can send it out to be spun.
You can leave it out for the birds to make a nest of, or spread throughout your garden to ward off pests (which is what I plan to do with my latest fur pile). Or compost it.
This all goes to show that you can find a way to reuse almost anything, even if it seems a little ridiculous.