Posted on
January 30, 2008

by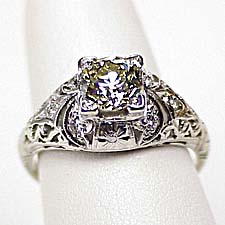 Right before we got engaged, my husband and I saw a documentary on blood diamonds, and I knew I could never wear one. We went for a ring that's artsy, original, and diamond-free. I've never been a traditionalist though, so there was no sense of loss in not having the classic engagement ring. But if a diamond ring is part of your engagement fantasy, what are your options?
Again, and antique or family heirloom ring is a great way to go. The damage has already been done and when you buy an old ring you're not supporting the current diamond industry. If you don't like the idea getting engaged with a ring that belonged to someone else, consider purchasing an old diamond and having it reset in a new ring made from recycled metals.
Canadian-mined diamonds are considered to be conflict-free, but the environmental and social repercussions are still great.
According to Mining Watch:
The (Canadian) mines are often built in environmentally fragile ecosystems, have significant ecological footprints, and will significantly impact upon the caribou, wolverine, bears, ptarmigan and fish which provide food for Aboriginal peoples.
Exploration and mining distort and disrupt the cultural and social lives of Aboriginal peoples and the regional economy and very few of the financial benefits from the mines return to the people who suffer most of the impacts.
The federal, provincial and territorial regulatory frameworks in Canada are inadequate to protect the environment from long term and cumulative environmental effects
Lab grown gemstones like Chatham Created Diamonds are a great option. According to GreenKarat, created diamonds have the same "chemical, optical, and physical properties as their natural counterparts," without the negative environmental and social impact.
Don't narrow it down to diamonds either. Opening up your options gives you a wide range of antique and created stones to chose from. Sapphires and rubies are hard enough for every day wear, and the character and variance in stones will make your ring one of a kind, even in a traditional setting.
An engagement ring is nothing more than a token of the love and committment you share. Do a little research, get creative, and make sure your engagement token has a small footprint.
Already have a diamond ring?  Enjoy it and consider passing the ring down through the family later on.