Posted on
July 3, 2007

by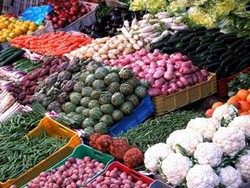 A great way to buy local, organic food is through a CSA program or farm share.
From Local Harvest:
A CSA, (for Community Supported Agriculture) is a way for the food buying public to create a relationship with a farm and to receive a weekly basket of produce. By making a financial commitment to a farm, people become "members" (or "shareholders," or "subscribers") of the CSA. Most CSA farmers prefer that members pay for the season up-front, but some farmers will accept weekly or monthly payments. Some CSAs also require that members work a small number of hours on the farm during the growing season.
We signed up with a local organic farm this year and got our first bag of veggies this past weekend. It was full of fresh beets, lettuce, zucchini, and yellow squash, all picked the day before. While every CSA program works differently, through our farm's CSA, produce works out to about $1.20 a pound. It's a great way to support local organic farmers, limit your food miles, and save money.
Click here to find a CSA in your area.