Posted on
July 18, 2007

by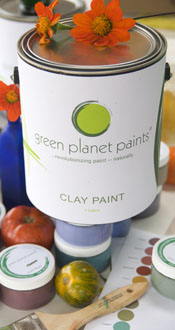 Summer is a great time for painting, and nothing revamps a room like a fresh coat of paint. But you know that new paint smell? That's off-gassing from your paint as it dries. It's not good for you. It can lead to headaches, and sick building syndrome. And it's not good for the environment. The Volitile Organic Compounds or VOCs, in regular paint contribute to air pollution. If paint isn't disposed of correctly, it can end up contaminating the soil and ground water.
The solution? Opt for a natural paint like Green Planet Paints. Their paints are free of VOCs, and use soy-based resins and mineral pigments. They use renewable resources, instead of petroleum based ingredients, and they disclose all the ingredients in their paint.
You'll get a great new look for your room, minus the pollution.
Another Eco-Friendly Tip from Allie.