Posted on
August 14, 2008

by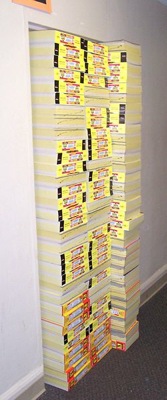 My husband and I were just having a conversation about phone books over the weekend.  Neither of us has used one in a VERY long time. 
Well, that's not true.  I have used pages from our phone book to make kitty litter.   But basically, it's not something we need to get.  We use our computers or our phones to get the numbers we need.  And if we were in a pinch and our internet connection was down, we could always just call information.  We keep all our vital numbers on the fridge anyway.
There are a lot of resources employed to get that book to your door.  If you don't use it much or at all, you may as well pass on getting one to begin with.
Thankfully, Petite Planet has the answer. Check out her post on how to opt out of your phone book.