Posted on
May 20, 2008

by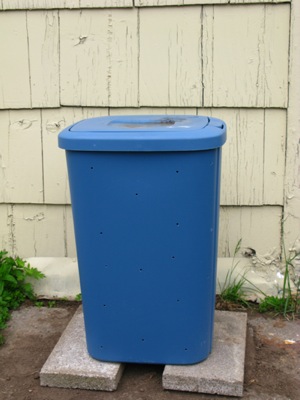 I've been eying compost tumblers for awhile now, but I just can't get past the price tag. Most of them run over 100 bucks. So, I did a little research and made my own.
I followed the directions for this homemade composter at Thrifty Fun.
I used a medium sized garbage that we already had. It's small, but I plan to make another when this one is full so I can stagger the "harvesting." Plus, this way, it won't get too heavy for me to turn weekly. I'm hoping the size won't be an issue in the composting process.
The whole process took me less than a half an hour, and was one of those satisfying making something out of nothing situations. Plus, playing with power tools is fun. But if you don't have a power drill, a hammer and a thick nail will do the trick too.