Posted on
December 7, 2007

by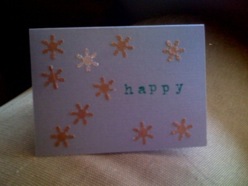 If you're planning to send holiday cards this year, consider making your own out of recycled materials.
I've been saving magazines and scraps of pretty paper all year. Using a few decorative punches, and a glue stick, I mounted shapes on to recycled card stock and used rubber stamps to spell out holiday greetings.
You can get really creative with your reused materials. I made snowflakes out of scrap computer paper, aluminum foil, paper bags, and even the foil top from my vitamin bottle. The cards are easy to make. This would be a good project to do with your kids.
Not feeling crafty? Make sure to purchase cards printed on recycled paper, and consider sending postcards instead to cut down on paper.