Posted on
June 17, 2008

by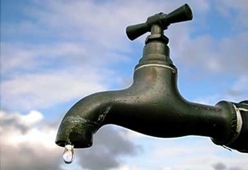 I am all about doing things myself.  I hate hate hate having to call someone in to fix things, especially since it involves vacuuming.  Seriously.  The dog fur tumbleweeds are out of control, and I can't allow an outside party into this house without getting the vacuum out first.  I hate vacuuming.  Also, I don't like the weirdness of having some man I don't know puttering around my house.
So, if something breaks, I take a stab at it myself first, as long as it doesn't involve electricity (I had an incident) or the gas line.  But sometimes, it's better to cut your losses and just get help.  
Case in point:  Last year, I did a post on fixing a leaky faucet.  And I did fix my leaky faucet, for awhile.  But the problem was bigger than a new washer could fix.  The stem was scraped up, and while replacing the rubber seat washer fixed the problem temporarily, the leak kept coming back.  The rough edges on the stem chewed through seat washers like crazy, so I had to replace them frequently.
I figured out what was going on, did some research, and made a trip to the hardware store for the tool I needed to remove the old stem and replace it with a new one.  We won't get into the sexism I encountered, but let's just say that our local hardware store is one locally owned business that has lost my support.
I came home with the tool they said I needed instead of the tool I was pretty sure I needed.  It didn't work.  A friend's dad suggested using plumbing grease.  I went back and bought some.  The stem still wouldn't budge.  When I went back a third time, the guys at the hardware store tried to tell me that the tool I was looking for didn't exist, and that my arms were probably too weak to use the tool they'd sold me (okay, I guess we are getting into the sexism a little bit).
I got really frustrated with the whole thing, and for awhile, I just went back to replacing the stem washers as needed.  Finally, one day when the faucet started leaking a steady stream of hot water, I broke down and called a plumber.  And you know what?  He was a really nice guy.  He got along with the dog.  He didn't smell bad.  He wore those little fabric booties to keep from tracking dirt through the house.  He told me my house was clean (he must have been kissing up).  He listened to me when I explained the stem situation.  He also told me that there's no way he would have been able to remove the stems with the tool the hardware store sold me.  And he fixed the problem for good in less than an hour.  It was totally worth vacuuming for.
Had I called a plumber after the first washer replacement failed, I would have saved:
The gas it took to make three trips to the sexist hardware store.
The gas it took to go to the less sexist big box hardware store to keep us in rubber seat washers.
Several packages of washers, because I couldn't find a package that contained just the correct size of washer, and had to keep buying variety packs and fishing out the ones I needed.  The waste includes the packaging, the washers I did use, and the washers I didn't use.
Gallons and gallons and gallons of water, since it usually took me a day or two to get around to fixing the faucet every time it started dripping again.
The energy it took to heat the water (since it was the hot water that was leaky).
A ridiculous amount of frustration
The next time something breaks, I'm going to try fixing it, and if that doesn't work, I'll suck it up, vacuum, and call a professional.