Posted on
April 23, 2007

by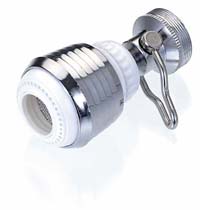 Faucet aerators can save three to four gallons of water per minute of use.
According to energyhawk.com:
Aerators restrict the flow of water, compressing it into a higher-pressure discharge than regular faucets. They also introduce air bubbles into the water, making it feel like there is a larger water flow.
Pick up an aerator at your local hardware store, or order one, like the Super Efficient Faucet Aerator 1.0gpm

online. Spending less than $5 can save you up to 50% on your water usage.
Get instructions for installing an aerator here. It's a simple process, even for the not-so-handy set.