Posted on
November 7, 2007

by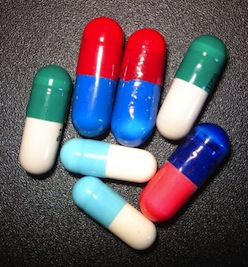 What do you do with prescriptions that have expired or no longer of use to you?  Do you flush them?  I used to think flushing was the safest way to dispose of pills, but apparently, it isn't.
Evidence of the medications' harmful effects have been surfacing in our waterways, landfills and marine life. A nationwide study released in 2002 by the United States Geological Survey showed trace levels of chemicals found in prescription drugs in 80 percent of the streams across the country. 
Some pharmacies are instituting take-back policies.  The next time you get a prescription filled, ask if your pharmacy has a plan in place for properly disposing of unused medications.
If there isn't a take-back plan in your area, current recommendations are to mix with cat litter, coffee grounds, or dog waste, and discard in the trash.   This will prevent the medication from being ingested by children or animals.
Of course, since cat litters like Feline Pine, coffee grounds, and dog waste are substances that can be disposed of in more eco-friendly ways, pushing your pharmacy to come up with a proper disposal plan seems like the best option.