Posted on
August 25, 2008

by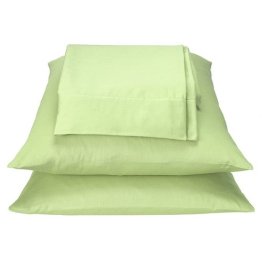 We used to have two sets of sheets, and I'd rotate them to make changing the sheets easier.  But we used to let Argo up on the bed all the time, and he tore a few holes (which I repaired) and generally wore out one set with his giant rough dog feet.  I guess those sheets are still usable, but they are kind of dingy and depressing and probably better suited for the rag bin.
So, now we're down to one set, and while that's okay, I have to make sure I time my wash so that we have clean sheets by bed time, and well, I'm not known for my stellar household organizational skills.  So I'm starting to toy with the idea of buying a new second set.  Here are a few options I'm considering:
Rawganique has a beautiful set of hemp sheets, but they are a little out of my price range.  If I'm going to pay 400 bucks for sheets, they better wash themselves and make the bed for me.  But they are beautiful.  And they are hemp.
Indika Organics has a great selection of organic bedding from a variety of green materials.  The patterns on the sheets are stamped with vegetable dyes.  Still a little pricey, but some of the selections seem more affordable.
Target has a wide range of bamboo sheets.  Bamboo fabric is so soft!  And has the added benefit of being naturally antibacterial.   These are very affordable.
Overstock has an amazing sale on an organic cotton sheet set.
What would you choose?