Posted on
August 1, 2008

by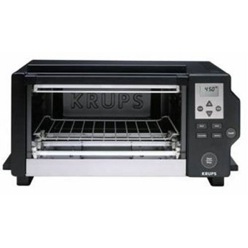 I've been toying with the idea of breaking my no new kitchen appliances moratorium and getting a toaster oven for a long time.  A post on Metaefficient has convinced me to take the plunge.
From Metaefficient:
"Toaster ovens are efficient devices for cooking small meals. They typically use two 750 watts heating elements and draw a total 1500 watts, whereas electric ranges draw about 3000 watts (and thus require a 240 volt electric socket). "
Also figure in the energy savings that comes from not increasing the heat in your kitchen and forcing your air conditioner to work overtime.
Metaefficient goes on to suggest getting a toaster oven with a convection cooking option for greater energy savings, and even lists two of the most efficient.
I think I'm going to go with the Krups.  The T-Fal oven looks like it might have non-stick coating on the roll warmer tray (although, I don't know for sure, so I don't want to condemn it).
The Amazon reviews on the T-Fal oven also give us an important reminder to unplug what we aren't using.