Posted on
June 19, 2008

by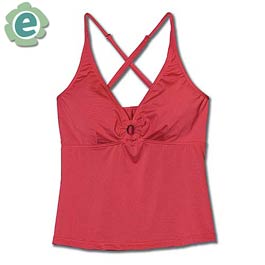 I bought a bathing suit several years ago, when I used to swim laps at the gym. It is hideously ugly. I find great joy in wearing it, because I think it's hysterical.
It's mostly orange, and it's reversible. One side has bright tropical flowers and looks like something one of the Golden Girls would wear. The other side has crazy snapshot type images of everything from volcanoes to toucans. It is an assault on the eyes, but it was on sale for 14 bucks, it dries really fast, and I was just wearing it to swim from one end of the pool to the other.
And, I even got a compliment on it once. This nice elderly gentleman came up to me, poolside and said, "Wow, that is some suit!" At least, I think it was a complement.
Don't buy a new suit if you like the one you already have.  Buying stuff you don't need isn't eco-friendly.  But if you're in the market for a new suit and putting form above function you might want to check out these eco-friendly options.
Aventura has an amazing collection of recycled poly swim separates.  The Skyler Recycled Poly Tankini (top shown above) is on my wish list.
Aaron Chang designed an itsy bitsy, teeny weenie, yellow polka dot (reversable) bikini made from recycled materials for Victoria's Secret, and it's adorable.
Rawganic has a really cute hemp bikini top, but no bottom. Hrmm. Are there a lot of bottomless beaches out there? That's a rhetorical question. Don't answer.
BTC Elements has some cute suits.
Or you can knit your own. Check out some more patterns here.
Low Tee makes men's bathing suits out of vintage shirts.
But, if you can't find a suit you like, Green As A Thistle advocated swimming in the buff.