Posted on
October 24, 2007

by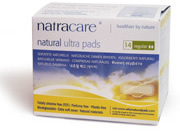 Take a second and think about how many feminine care products you use every month.  Multiply that by 12 months and then multiply that by 39 (the average number of years women maintain a menstrual cycle).  That's a lot of waste, and there's a lot more to consider as well.

According to Natracare:
Many women are unaware that rayon and rayon-cotton blends are widely used in the manufacture of tampons. Rayon is commonly chlorine-bleached, and is a highly absorbent fibre. Dioxin, a toxic carcinogen, is a by-product of all chlorine bleaching methods and is also found throughout the environment in varying levels as a by-product of pesticide spraying and pollution from incinerators. Dioxin has been found to collect in the fatty tissues of animals, including humans and should, therefore, be a real concern for women. Published scientific reports have shown that evidence is growing that even low levels of dioxins may be linked to cancer, endometriosis, low sperm counts and immune system suppression. Considering a woman may use as many as 11,000 tampons in her lifetime, she may be subjecting herself to additional dioxin exposure.
So what should you do?  It's not like you can just will your period away (if only!).
The easiest switch to make is to use organic and natural tampons, pads and pantyliners, like Natracare or Seventh Generation products.  You can find natural substitutes for the products you use, and you won't even notice the difference. If you are currently using tampons with an applicator, try to make the switch to applicator free tampons, to reduce waste.
If you're willing to make a bigger change, buy reusable pads, like GladRags or Lunapads and panties.   Or make your own.
Another option is a menstrual cup like The Keeper, which is made of natural latex, or The Moon Cup or Diva Cup, which is made from medical grade silicone.  The advantage to a silicone cup is that it can be boiled to sanitize after use.  To read more about menstrual cups, check out the Q&A on Diva Cup site, or check out the questions, testimonials, and support on MenstrualCups.org.
Making a change to natural feminine care products is important for your personal health and the health of the environment.