Posted on
May 8, 2008

by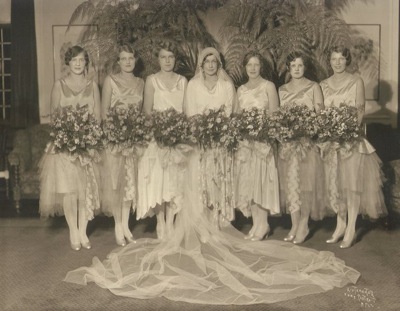 "So, what does your dress look like?" is one of the first questions people ask when they find out you're getting married. Your wedding dress may be white, but it can still be green.
Look for a dress made from eco-friendly materials like bamboo or hemp. Here are a few places to start looking:
Purchase eco-friendly fabric (like a hemp/silk blend) and work with a local seamstress to create your dream dress.
Look for a vintage dress. Have it fitted or updated to make it perfect. I came across this blog, and thought the creativity and recycling that went into creating a 1920′s themed wedding was wonderful.
Borrow a dress from a friend or wear a family heirloom. If you're getting a dress dry cleaned, make sure to hang it to air out (CAREFULLY) so you aren't inhaling dry cleaning fumes on your wedding day.
If your wedding is informal, consider buying a dress you can wear again. A simple white sun dress or skirt and top could get use way beyond your wedding day.
Don't forget to go eco-friendly when it comes to your bridesmaid's dresses. And please, pick a dress they can reuse. One of my friends had us all pick our own dresses as long as they were black. The dress I bought got years of use, and everyone looked good in their dresses. Buying a bridesmaid dress that will only be worn once isn't eco-friendly.
If your wedding vision doesn't include bridesmaid dresses that are reusable, after the wedding, consider asking your wedding party to donate their dresses to an organization that gives free prom dresses to girls who can't afford them.