Posted on
February 8, 2008

by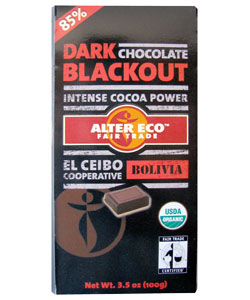 Chocolate really is an obsession of mine, and I know I've mentioned fair trade chocolate a few times before.  But I think it's important to buy chocolate from ethical sources, and in light of Valentine's Day, I think it's worth mentioning again.
After reviewing Alter Eco's  Dark Blackout Chocolate a few weeks ago, I've been included on their mailing list.  They sent a press release out this week, and I think it brought up a very good point about chocolate.  It's not just a good thing to buy organic fair trade chocolate, it's important to avoid purchasing chocolate that isn't organic and fair trade.
"Each year, many Americans celebrate Valentines Day by buying chocolates for their loved ones.  While chocolate is one of the most quintessential presents, many don't realize that the conventional production of cocoa involves labor exploitation, unfair wages and the use of toxic pesticides.  By purchasing Fair Trade and Organic, you can make an impact that breaks the conventional means of production and empowers the livelihood of others and their environment."
Obviously, Alter Eco has a vested interest in the fair trade chocolate biz, but I think what they're saying makes a lot of sense.  Vote with your dollars.  Buy ethical products.  Support companies that do things the right way.  And break your ties to brands that don't live up to your standards.
Oh, and you really can't go wrong with Alter Eco's Dark Blackout Chocolate. If anyone wants to send some my way for Valentine's Day, I won't complain one bit (honey, that's a hint).