Posted on
June 6, 2007

by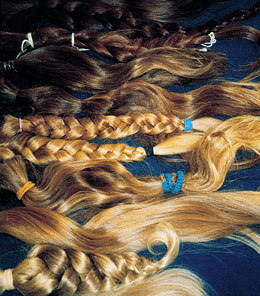 You brush it every day, wash it with fancy shampoo and slather it with conditioner. You give it hot oil treatments and use covered rubber bands so it won't snag. You care for it for months and then you leave it in a heap on your hairdresser's floor so it can be swept up, thrown in a plastic bag, and dumped in the garbage.
Since you go to such lengths to care for your hair (no pun intended), donate it, so it can help someone else feel beautiful too.
Wigs for Kids provides full-cranium prosthetic hair pieces to children suffering from hair loss due to medical conditions, chemotherapy, and severe burns.
Pantene Beautiful Lengths uses donated hair to make wigs for women who have hair loss during cancer treatments.
Locks of Love provides prosthetic hairpieces to disadvantaged children suffering from long-term hair loss.
In the UK, the Little Princess Trust provides wigs to children with cancer and other illnesses that cause hair loss.
Each organization has different requirements for hair donation, so research before you cut. Men can donate too.
Make sure to use eco-friendly products to care for your hair while it grows.
Another Eco-Friendly Tip from Allie.