Posted on
June 24, 2008

by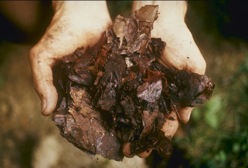 My compost isn't ready to use yet, but yesterday, I harvested my first round of compost tea to feed the plants in my garden.  It's a great natural plant food, made from kitchen scraps.  Here's how you "brew" it. 
The composter I made a few weeks ago has holes in the bottom.  I've balanced it on some bricks and placed an old plastic tray underneath it to collect the juice that flows out.  As a part of the composting process, I wet down the compost from time to time, so it's pretty juicy.
The compost tea that collected in the tray looked like coffee that's been sitting in the pot for a few days and didn't smell as bad as I thought it would.  I poured it in a watering can, mixed in some water, and used that to water my plants.
There are other methods of collecting compost tea.  Some composters come with a spigot at the bottom for emptying the tea.  And there are even special machines and gadgets for making compost tea.  Check out some other methods here.