Posted on
July 24, 2007

by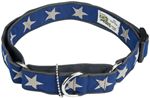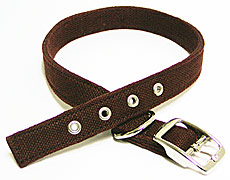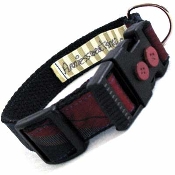 My pup has been running around collarless since he snapped the plastic on his old collar the last time we took him camping. As I've mentioned, going green isn't about buying more. But when something is worn out and no longer useful, replacing it with a greener product is the way to go.
Only Natural Pet Store has some adorable hemp collars. Hemp is a renewable resource, and the hemp in these collars is 100% biodegradable, hypoallergenic, and pesticide/herbicide free.
Abundant Earth has hemp collars with metal buckles and grommets. They say their collars are like jeans. They break in and get better with time.
Annie's Sweatshop has collars made from recycled ties or repurposed cotton. Send in your old dog collar for recycling and get a five dollar discount!
CraftBits has instructions for making a collar out of an old shirt. This would be a great project for smaller dogs. I'm pretty sure my big beast would destroy it in a few minutes.
Even smaller purchases can be an opportunity to make greener choices.
Another Eco-Friendly Tip from Allie.