Posted on
August 13, 2008

by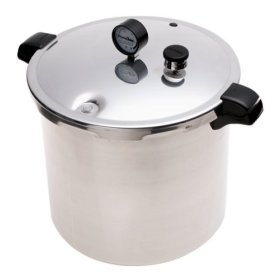 Looking for a fast, energy efficient way to cook dinner?  Get a pressure cooker.
Cooking with a pressure cooker can save 70% in fuel usage and cooking time.  You can cook a whole chicken in 20 minutes, and veggies, potatoes and rice at lightening speed.  The way a pressure cooker heats food requires less water and allows food to retain more vitamins and minerals.
When ever I think of pressure cookers, remember that scene from Breakfast at Tiffanys where the pressure cooker explodes and Holly and Paul are covered with rice, but today, pressure cookers have better safety valves, so you won't have to worry about explosions.
For great instructions and recipes check out Miss Vickie's Guide to Modern Pressure Cookery.