Posted on
August 21, 2008

by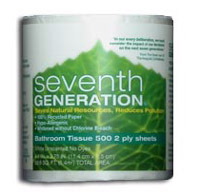 Recycled content toilet paper is often about as soft as the stuff you'll find in a rest stop bathroom on the interstate. But according to Seventh Generation, making the switch even every once in awhile can make a big difference.
Even if you can't commit to making the switch permanently, reach for a recycled roll every once in awhile. On the Seventh Generation wrapper, it says:
If every household in the U.S. replaced just one roll of 1,000 sheet virgin fiber bathroom tissue with 100% recycled ones, we could save:

469,000 trees
1.2 million cubic feet of landfill space equal to 1,700 full garbage trucks
169 million gallons of water, a years supply for 1,300 families of four
So, switch things up once a month and go for a roll of toilet paper that is made from 100% recycled content. Of the brands I've tried, Seventh Generation is the best.  But it's important to go for 2 ply.
UPDATE: Yesterday, I discovered that CVS has store brand recycled paper products.  They're really cheap and made from 100% recycled content.  I picked up some paper towels (for something like $1.29) and a roll of TP.  Sadly, they only seem to have 1ply TP, but it's nice to not have to run all the way out to the natural foods store for recycled paper products.