Posted on
May 28, 2008

by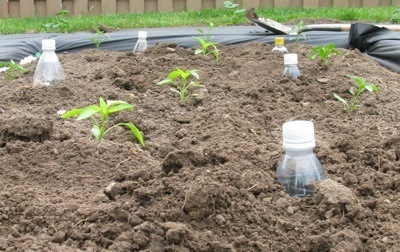 Gardening conflicts with my other favorite summer activity – backpacking. It's hard to get away for a weekend in the woods when the tomatoes need watering, so here's my solution.
Frugal Dad's Square Foot Garden uses water bottles with pinholes as a drip irrigation system. At first, I was planning to strategically place bottles around my garden, but it gets windy here, and I could picture my bottles ending up in the neighbor's yard, so I decided to plant them in the ground. This way the water will enter the ground at root level. The mouth of the bottle sticks out for refilling.
Frugal Dad's water bottle drip irrigation system is meant to water efficiently through the course of a day. I needed my drip irrigation system to water longer, so I used one liter bottles.
I poked two pin holes toward the bottom of each bottle, but when I planted them the water dripped out too fast. I wrapped the bottles in wet newspaper before burying the bottles. The newspaper slowed the drip. I'm a little worried it may be too slow, but I'll watch it and adjust as needed. The newspaper will break down, so I'll need to replace it. I'm brainstorming for a material I can use that won't need to be replaced as often.
This is hardly a well-tested method at this point. It's all experimental. I'd love to know if you have ideas that can improve on this. And if you decide to try something similar, please let me know what works/doesn't work.
If this does work, I'm hoping to put funnels in the bottles when it rains to collect water. I'll recap the bottles after the rain to prevent mosquito issues.
Another benefit is that since the plastic won't break down, the same bottles can be used over and over again (I've switched to buying sparkling water in glass bottles if at all).
My wet newspaper folding technique (perfected after several failed attempts) is as follows.