Posted on
February 5, 2010

by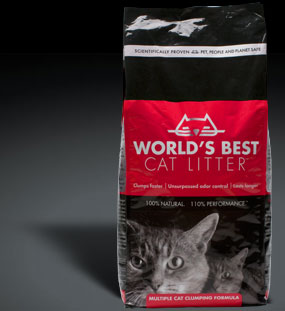 It PAINS me to write this review.  I am, after all, the person who made up her very own kitty litter recipe.  And that kitty litter is pretty darn good, if I do say so myself.  When Drew from World's Best Cat Litter offered to send me a bag of litter to test out, I did warn him that I'm something of an expert.  I mean, for me to actually want to buy kitty litter it has to be markedly better than the stuff I make for about 3 cents worth of baking soda per batch.  So I was incredibly skeptical.  If I'm being completely honest, I kind of wanted it to fail.  But if I'm still being completely honest, I have to admit that it's the best kitty litter my cat has ever used.
I've been using World's Best Cat Litter in the cat's litter box for three weeks now, and I have to say that it really does live up to the name. World's Best Cat Litter is made from milled whole-kernel corn and is completely biodegradable.  It clumps! It's flushable (make sure you're cat is tested for water contaminating parasites before you flush kitty litter)! It controls odor REALLY well!  It's not super dusty.  The cat doesn't track it around the house all that much, but the little she does track gets picked up by the vacuum easily.  And the litter itself lasts a really long time – since you're scooping, you just need to add a little new litter here and there without switching out the whole box every week like I have to do with homemade litter.
My cat took to it immediately – although that's one area where she excels – she may be mean as all get out, but she's very accommodating about changes in litter materials.  Since my cat had a urinary tract infection a few months ago, I appreciate that the litter is light enough in color that I would notice blood in the litter box if she got another infection.
World's Best Cat Litter does come in a plastic bag, and it does cost more than 3 cents a batch, but I will admit it's a lot more convenient than making your own, and a lot safer for your pet and easier on the environment than some of the conventional litters out there.  It also works better than the conventional litters that I used to use years ago.  I think World's Best Cat Litter is a fantastic option for someone who doesn't have the time to make their own litter, but still wants to use a clay litter alternative.  And I also have to admit (even though it's really hard for me to!) that I plan to keep a bag on hand for when I don't have the time to make my own.  Sheesh!