Posted on
January 20, 2009

by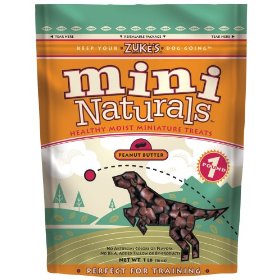 Of course, when I heard about the peanut butter recalls, before I did a mental review of the food we'd been eating, I thought about the two new packages of peanut butter flavor dog treats I'd recently purchased.  Now, I don't even know if salmonella can be an issue for dogs, but I didn't want to take any chances.
Luckily, the products I purchased came from wonderful companies who purchase quality ingredients and take the time to respond to customer questions.
Yesterday, I e-mailed Zukes and Newmans Own Organics and both responded within the hour.
From Zukes:
I know that the news on peanut butter has been pretty disturbing lately-but fear not, I'm here to assure you that Zuke's is 100% Salmonella free!

All of us at Zuke's see our pets for what they are-family.  We would never, ever do anything to hurt family members, no matter who they belong to.  Our peanut butter comes from a local company that has not been involved with any of the recent recalls or salmonella outbreaks.

Please rest assured that all Zuke's products containing peanut butter are safe.
From Newman's Own Organics:
Newman's Own Organics has contacted all of our manufacturers and suppliers of our products that contain peanut butter ingredients.  These products are:

Peanut Butter Newman O's
Milk Chocolate Peanut Butter Cups
Dark Chocolate Peanut Butter Cups
Peanut Butter Dog Treats

Each of our peanut butter ingredient suppliers have verified in writing confirming that they are not part of the FDA recall.  Their protocol of testing has confirmed no salmonella contamination.

Each of our manufacturers has also confirmed that they have maintained their testing protocol and have found no salmonella contamination.

We are confident that you can continue to use these products.
By the way, I haven't mentioned Zukes before, because I just decided to give them a try.  The training treats are the perfect size for training (and bribing) our new pup, and I love that they are wheat and corn free, and made in the USA.