Posted on
October 27, 2011

by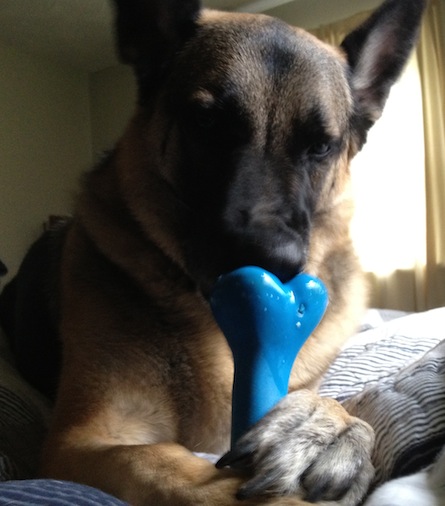 When we first got Stella almost three years ago, she had no idea what to do with toys.  She was actually afraid of some of Argo's big heavy chew toys.  When they fell to the floor with a big, loud thud, she'd run into the other room shaking.  But, because both dogs are strong chewers, we can't buy wimpy dog toys.  I got Stella an Orbee-Tuff bone hoping she wouldn't be afraid of it and it would be strong enough to hold up to both sets of super strong choppers.  It was a perfect solution.
It's the toy that taught Stella how to play with toys.  She loves to chew on it, even when she was younger and smaller she could easily carry it in her mouth.  There are holes at either end that are perfect for putting a small treat in.  It has a little bounce when you throw it, and it's soft enough that it doesn't drop with a big loud thud.  Seeing her march around the living room with her new toy in her mouth made me so happy.  Now she plays with all sorts of toys, but her blue bone is still her favorite.
When we first got the Orbee-Tuff bone, I didn't think it would last very long because the rubber is really soft.  I thought for sure Argo would get a hold of it and chew it to bits in seconds.  But it's incredibly strong.  Stella has had her Orbee-Tuff bone for almost three years now and there aren't even any tooth marks in it.  The rubber is so soft that it seems to just bend around her teeth.  And, it's non-toxic, recyclable, and made in the USA.  
About Planet Dog:
"Our mission is to amuse, explore, support, innovate, create, educate, celebrate and philanthropate… all in the name of the dog. We "romp the romp" by providing financial resources to those in need, educating consumers about canine-related issues, creating an array of non-toxic and recyclable products, and keeping the tails of "our pack" wagging."
Based in Maine, Planet Dog makes many products from recycled materials and accepts used Orbee toys for recycling.
Planet Dog gives 2% of every sale of any Planet Dog product to their ownPlanet Dog Foundation, an organization that funds programs that train, place, and support working dogs helping people in need.
In honor of 10 years of giving, Planet Dog Foundation has just awarded $68,580 in new grants to 10 assistance dog, therapy dog and other canine service programs across the country:
 "The PDF grants will support a wide variety of non-profit programs that rescue and train dogs to help: children and adults with physical and developmental disabilities; incarcerated men and women; injured service members; at-risk youth; natural disaster survivors and many more people in need.

The ten grant recipients are:  Freedom Service Dogs of Lakewood, Colorado; Guiding Eyes for theBlind of Yorktown Heights, NY; Home for Life of Stillwater, MN; Indiana Canine Assistance Network(ICAN) of Indianapolis, IN; Maine Medical Center of Portland, ME; Prison Pet PartnershipProgram of Gig Harbor, WA; READing Paws of Ocoee, FL; Search Dog Foundation (SDF) of Ojai, CA; Sherman Health Foundation of Elgin, IL;  and Tender Loving Canine Assistance Dogs (TLCAD) of Solano Beach, CA."
To celebrate, Planet Dog has created a glow-in-the dark version of the Orbee-Tuff bone for the Planet Dog Foundation, and they've  generously given us TEN to give away!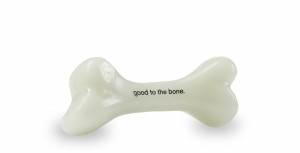 To enter, leave a comment on this post telling us about your favorite dogs. Make sure you use a valid e-mail address when commenting.  One entry comment per person, please.  On Friday, November 4th, I'll pick ten winners using a random number generator!
Good luck!
Follow Planet Dog on Facebook & Twitter.
CONTEST CLOSED
Winners are: Erin, Kathy, Katie, Jamie, Rob, Tara, Brenda, Kim, Holly & Julie
Winners have all been contacted.
Thanks so much to Planet Dog for sponsoring this contest!