Posted on
October 12, 2010

by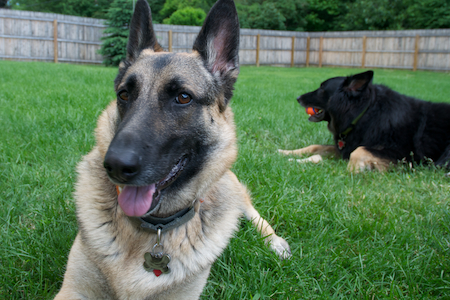 Stella loves to roll around in the yard.  She's a pro at finding a nice fragrant spot and making sure any gross scent she can find fully permeates her coat.  She's not as big as Argo, but at sixty-five pounds, she's not tiny either, and once it gets too cold for a hose down in the back yard, it's hard (read: the entire house gets drenched) for us to bathe her at home.  And it's expensive for us to take her in to to the doggie salon get washed every time she gets a little ripe.  I often resort to a wet washcloth and some gentle soap, but it doesn't always do the trick.  There are doggie perfumes out there, but a lot of them just add a nice floral scent on top of the stink.
Opie & Dixie sent me some of their Organic Rosehips Dry Shampoo and Conditioning Mist, and it's a wonderful fix for stinky Stella.  You can spray the shampoo directly on the dog, or on a soft cloth and then use the cloth to apply.  Both Argo and Stella don't mind getting a quick spray and it doesn't irritate their sensitive skin.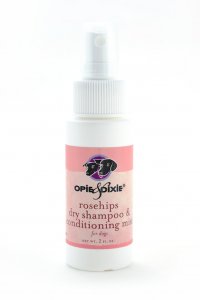 The ingredients are:
Purified Rain Water, Certified Organic Herbal Blend of Organic Rosehips, Organic Chamomile, Organic Calendula flowers, Organic Burdock, Organic Safflower Oil, Grape Seed extract, Organic Rosemary, Biodynamic Avocado Oil, Biodynamic Macadamia Oil, Organic Lavender, Organic Lotus Bean gum, Australian Bush extracts of Kakadu Plum, Organic (Vegetable) Glycerine, Organic Burdock Root Extract, Organic Aloe Vera Extract, Organic Jojoba Oil, Henna Extract, Organic Lavender Oil, Organic Pennyroyal Oil, Organic Tea Tree Oil, Citrus Seed Extract, Natural Grain Alcohol, Organic Rosemary Oil, Organic Rose Hip Seed Oil, Canadian Wild Crafted Red Clover
Debbie Guardian developed Opie & Dixie products as a solution to her dog, Opal's itchy, irritated skin.  She focuses on organic and biodynamic ingredients, and works hard to keep the packaging recyclable.  Even Opie & Dixie's labels are made with concern for the environment.  You can read more about practices and ingredients here.
Opie & Dixie did provide products for me to sample, but the opinions in this post are my own (with some help from Argo & Stella).