Posted on
August 24, 2007

by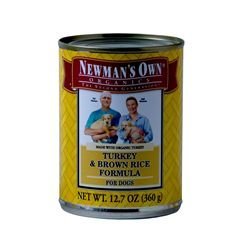 I've been singing the praises of Newman's Own Cat Food ever since my cat lost weight, got active, and finally decided she liked me when I switched her food over. After taking my pup to the vet today, I want to shout about Newman's Own dog food from the rooftops.My amazing, faithful, enormous German Shepherd, Argo, has been having allergy problems for a few years now. It's been an endless cycle of vet visits and trying to disguise pills in cheese and peanut butter.  Before subjecting him to a series of allergy tests and shots, I decided to make a last ditch effort and switch his food.   He's been on a combination of canned and dry Newman's Own Organics Premium Dog Food for about two months now.
Today, at our visit, the vet said that allergy testing wasn't necessary because Argo was doing so well. Not only that, but my extremely picky dog actually likes this food. With other foods, I've had to resort to tricking him into eating by sprinkling shredded cheese or scraps of chicken over his food. Now, the second he hears the food hit his bowl he's right there and ready to chow down.
The other thing I love about Newman's Own pet food is the peace of mind it gives me. None of Newman's pet foods were included in the food recalls. They don't use wheat gluten or rice protein concentrate in any of their foods, they're made in the U.S. and certified organic by Oregon Tilth. The foods do not contain poultry by-products, chemical fertilizers, antibiotics or steroids, chemical additives or artificial preservatives, wheat or corn, artificial flavors, colors, or dyes. They do contain probiotics, omega-3 fatty acids and parsley (to combat doggie breath) in addition to a list of natural ingredients you'll recognize as foods you eat too.
If you decide to make the switch, make sure you do it gradually. An abrubt change in food can be upsetting to your dog's stomach. Talk to your vet about how many calories your dog should consume in a day so you know how much to feed him.  And if your dog has any special health needs, it's important to talk through any changes in diet with your vet. In the interest of full disclosure, I will tell you that the first two weeks of the switch were a little stinky, but after my dog's system adjusted to the new food everything went back to normal. Now, I couldn't be happier with Newman's pet food.