Posted on
July 2, 2007

by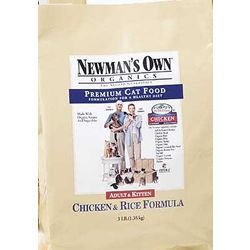 I've always splurged a little when it comes to pet food. Over the years, my kitty has tried out several high quality cat foods, but Newman's Own Organics Adult Cat Formula dry food is in a league of own.
In less than a week of switching her over to Newman's, my cat's coat was noticeably shinier, softer, and smoother. More remarkably, her energy level has improved drastically. She's nine years old, and a cancer survivor. Before I switched her food, she spent most of her day lying on the bed in the guest room soaking up the sun. Now, she's so social and active that it's hard to believe she's the same cat!
Newman's Own Organics Adult Cat Formula dry food is certified organic and has ingredients like Chicken, Oats, Carrots, Brown Rice, and Flax Seed, as well as probiotics like Lactobacillus Acidophilus (the same active culture found in high quality yogurt). It's packed with antioxidants to maintain your cat's immune system, omega fatty acids for healthy skin and coat, and chelated minerals to help your cat best absorb nutrients.
None of Newman's Own pet foods were involved in the recent pet food recalls. They do not use wheat gluten or rice protein concentrate in any of their pet foods, and all of their pet foods are made in the USA.
All of Newman's Own after-tax profits go to charity. The first $100,000 made from Newman's Own Organics Pet Foods was distributed to ten animal charities chosen by their distributors.
Click here to find a store that carries Newman's Own Organics Pet Foods, or buy online.
Another Eco-Friendly Food from Allie.