Posted on
March 7, 2008

by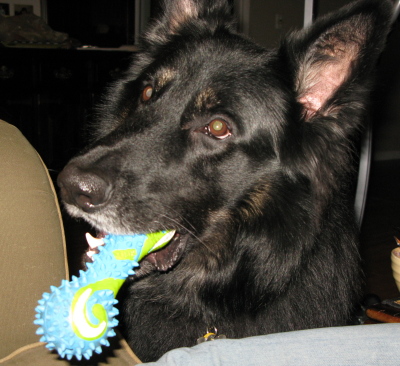 Our German Shepherd is one of the brightest spots in my life. He's almost 100 lbs and looks a lot like a wolf, but understands the word cuddle and always tries sit in my lap. He has a favorite blanket that he drags around the house. He's managed to win the hearts of hard core dog haters, and people who have always been utterly terrified of German Shepherds. He jumped on the mailman once, but only so he could lick his face. He herds the cat like it's his job. He snores while I write, and it's the best sound I can think of.
When we brought him home four years ago, he was a funny looking five month old puppy with a head he needed to grow into and legs like tree trunks. I fell in love with him immediately. I was so terrified by the idea of losing him, that I took him to the vet to get microchipped.
This February, I noticed a growth on his shoulder. We took him to the vet and had it removed and biopsied. Two weeks later, the biopsy came back and we learned that he had squamous cell carcinoma, a locally aggressive cancer not normally found in that location, or in a dog so young. At our vet's suggestion, we took him to a veterinary oncology specialist. They did a series of tests and recommended that we have more tissue removed from his shoulder to get wider margins on the tumor site.He had the surgery on Wednesday. According to the surgical report his microchip "was found in the tumor-contaminated surgical field." I asked his surgeon if she thought the microchip caused the cancer. She said she didn't know absolutely, but if it was a coincidence, it was an awfully big one, (especially since his tumor was in such an odd location and rare in a dog his age).
I'm not sharing any of this to incite fear. I'm not saying you should have your pet's chip removed if they have one. Or not get your dog chipped if they are prone to running away. But had I known there was any risk involved with getting my dog microchipped, I wouldn't have done it. I would have weighed the risks and benefits and I'd have realized that it didn't make sense for him. My dog is never alone outside. We don't leave him in a fenced in yard where he could escape. He doesn't take off after squirrels when we take him hiking (the bunnies in our yard don't even bother to run away from him anymore). And he's way too codependent to let me out of his sight.
I read all of those "news" stories about cats accidentally stowed in a suitcase, or a shipping box, traveling across the country, but being reunited with their owners because they had a microchip, and I wanted that security of knowing that I did everything I could to keep my dog safe. Unfortunately, what I did in an effort to keep him safe is the likely cause of his cancer. Had we gotten our dog this year, instead of four years ago, this wouldn't have happened. Four years ago, I thought any product sold in my vet's office had to be safe.
The research I do for this website has opened my eyes to how important it is to be your own health advocate. We can't trust that companies hold our health and safety, or the health and safety of our pets, as a top priority (think pet food recalls). We can do everything right and still not have control of every outcome, but I've learned how important it is make well-informed decisions. Our dog's prognosis is open at the moment. He came home yesterday. Aside from tiring easily and having an enormous scar, he's back to his goofy old self. We'll get his new biopsy results in 10 to 14 days. The wait seems long and torturous, but I'm trying to focus on just spending time with him and figuring out the best way to cuddle without getting a split lip from his giant plastic e-collar. He's already figured out how to drag his blanket around with the collar on.