Posted on
March 14, 2008

by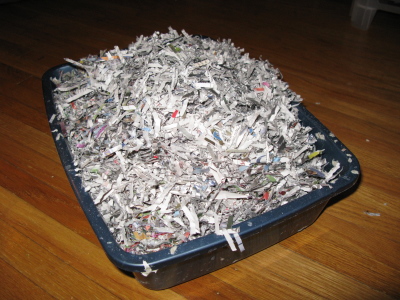 When I posted my make your own kitty litter recipe a few weeks ago, Sherri asked if there were issues with the ink from the washed newspapers going down the drain.
Janet, a reader from Winnipeg, Canada, did a little research and was kind enough to e-mail me her findings.
"One commenter asked about the ink and if it would be harmful to put down the drain.  Newspaper inks have changed a lot in the last 10 years.  Generally, newsprint coloured flyers and comics use non-toxic vegetable-based inks (might be the law here in Canada, I'd have to check).  Our local paper uses soy-based inks.  The shiny type flyers might be different."
She found an article from Ohio State University about using newspaper as livestock bedding.  The article states:
"One major concern for livestock producers and consumers is the safety of livestock bedded on newspaper containing inks. Until 10 years ago, lead, cadmium and other toxic heavy metals were commonly used in paper inks.

Now, however, most publishers use organic pigments. Most of these pigments are the same as those used in tattoos, lipstick, hair coloring and other cosmetics."
Of course, we know that use in cosmetics is not necessarily a good indicator of what's safe, but when you consider the chemicals in clay and clumping litters, newspaper seems like a reasonably safe, lower impact solution.  If you're concerned about the ink used to print your local paper, give them a call and ask if they use soy based inks.  If they don't, tell them it's a change you'd like to see them make.
Janet also came up with a link to some great information about composting newspaper.   Although if you are planning to compost your kitty litter,  talk to your vet and make sure your cat is tested for toxoplasmosis, parasites, and anything else that could be spread through their waste and cause harm to you, your family, other animals, or the local environment.  And don't use cat litter containing compost on any plants you intend to eat.
Thanks, Janet!