Posted on
August 6, 2009

by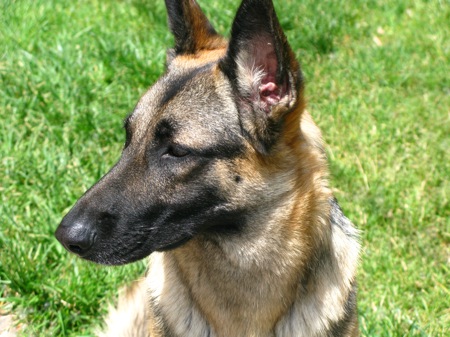 We have the worst lawn in the neighborhood.  Although, I suppose that depends on what your version of bad is.  Our lawn is full of clovers, dandelions, and plants that are green, but not necessarily grass.  We have a few bald spots.  But when the dogs run outside and roll around in the grass first thing in the morning, it's safe.  They aren't coating themselves in chemicals, that they will ingest when they lick themselves, and they aren't bringing those chemicals into the house on their fur to rub off on furniture and people, because we don't spray our lawn with herbicides and pesticides and fertilizer.
Unfortunately, everyone else in our neighborhood does.  The lawn chemical company trucks seem to be a permanent fixture in our neighborhood.  Just as soon as the little yellow lawn tags come down at one house, they go up at another.  And no one ever seems to bother sweeping those little yellow, white, and blue pellets off the sidewalk.  So we end up walking through them when we take our walks. 
When we come home, I wash Argo and Stella's feet.  But I worry that it's not getting all the chemicals off, or perhaps dissolving them into their skin and making it worse.  I picture chemicals seeping in to the little cracks and crevices in Argo's worn footpads.  Maybe that's crazy, but Argo has already had cancer once.
An article at Examiner.com says, "According to published studies, dogs exposed to herbicide-treated lawns and gardens can double their chance of developing canine lymphoma. For some breeds, exposure also increases their risk of bladder cancer by four to seven times."
Do I walk my dogs, or do I keep them in my own yard to try to keep them safe?  It seems crazy to me that I have to choose.  Is a pristine green yard more important than the health of our pets?  And aren't pets the canary in the mine?  Is a pristine green yard more important than the health of us?
I'm going to buy Argo and Stella some dog boots, but it would be easier (and less expensive) if my neighbors just stopped using chemicals.  I try really hard not to judge other people's choices, but I get angry every time we go for a walk.
Maybe our lawn is the best lawn in the neighborhood.  Clovers are pretty.  Dandelions too.