Posted on
July 9, 2010

by

Today's post is by our fellow blogger and good buddy Noelle, who blogs at The Daily Tannenbaum. If you'd like to guest post for The Greenists, e-mail courtney at thegreenists dot com.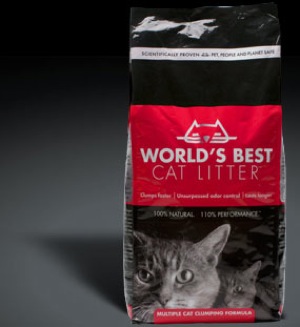 Hi, long lost Noelle here. I'm coming out of Greenists and blogging hiatus in a quest to turn Allie's blog into a resource on all things kitty litter. I was inspired after reading the recent post about Kitty's Crumble here. It just so happened that a local natural pet store I was meaning to go to was also a supplier of the Crumble.
I'm a lover of all things local, and part of that reason is that when you go to a store and have a conversation with the owner, you almost always walk away with the best possible product you can get. I chatted with the Natural Pet Center Owner and told her I was looking for some Crumble, and she asked me, "do you live in an apartment? Do you have a barn?  Does your cat go to the bathroom outdoors?" And then she took me on a field trip to the barn part of her store and showed me where she had a litter box full of Kitty's Crumble for the outdoor cats on the premises. She agreed that they really seemed to like it and that it was great for compost, but then she told me that the litter has a tendency to track brown stuff on furniture when used indoors, and that since I don't compost (someday when money's no object and I can do it indoors…) it wasn't the right litter for me.
Then she steered me in the direction of the World's Best Litter. Really, that's what it's called. It's a good thing they were right. Otherwise, it's like titling your novel "Winner of the Pulitzer Prize" or naming your kid "President Tannenbaum" or referring to your dog as "Best In Show." It's a lot to live up to, is what I'm saying.
This litter was so good, that I immediately emailed Allie & Courtney and said, "I gotta come out of hiding to tell everyone about this great litter!" And Allie, in her gracious literary way was all, "uh, yeah, we already got to that, like in February." You can read the post here, or I'll just bullet point that this litter:
doesn't smell like clay
doesn't get dusty
is a delightful yellow color because it is derived from grain
doesn't track as badly as the clay stuff
clumps like magic
can be flushed
was taken to by Lucy the moment I poured it into the box. She didn't even wait for me to leave the bathroom before she did her business.
Bottom line, if you have a cat and don't have the time to DIY the poo box, World's Best Litter is for you.
This litter is nothing new to the Greenists, so I will also contribute that while I was at the pet store I also bought Taste of the Wild dry food. A few weeks ago we had an incident involving cat throw up on my white blanket, and I was not too pleased to realize that because the dry food has food coloring, the upchuck of said product causes stains. Food coloring is not a necessary ingredient for sustaining life, and why is it so important for cats to eat appetizing looking food? Out of a bowl? On the floor? The stuff I got her is made with roasted venison & smoked salmon, is grain free, and is balanced with peas. She took to it faster than she took to the litter, so we have a winner! I'm hoping that the white blanket sees no more hurling action, but if it does, at least this time I know I can wash it out.
And that's how me and my cat are doing our little best to keep green these days.
Since it's been forever since I've been here to say hello, can I also include a bonus tip that I just learned? If you have stainless steel anything, and need to clean it, don't go for any weird chemical stuff. Just soak it in lime or lemon juice for two minutes, and wash normally. It was like magic with my stuck-on grilled cheese grease!