Posted on
April 17, 2007

by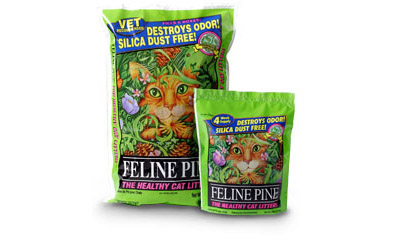 I was skeptical when I first tried Feline Pine. I've tried other environmentally friendly kitty litters before. One was made from recycled newspaper, another from cedar shavings, but when the whole house ended up smelling like cat, I quickly switched back to traditional litter.
When I saw Feline Pine at in the kitty litter aisle, I decided to give environmentally friendly kitty litter one last try. I'm really glad I did. My cat made the switch easily, and the only odor I've noticed is a pleasant, woodsy scent. No new trees were cut to make this product.
Feline Pine has:
no harsh artificial fragrances
no dangerous silica dust
no unnatural chemical additives
virtually dust-free pellets
A seven pound bag should last for four weeks. As it's used, the litter pellets break down into saw dust. After scooping, the dust can be composted, or used as mulch.
Feline Pine is relatively inexpensive – around five bucks for a one month supply. You can find it at Petco, Petsmart, Walmart, and Target (in store only), as well as at many regional chain stores.
Go to the Feline Pine Website for rebates.
Another Eco-Friendly Tip from Allie