Posted on
January 5, 2009

by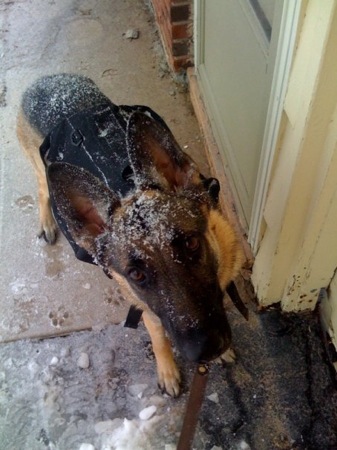 I have to say that we've tried a lot of new dog products this year.  Like Argo, our new friend, Stella, comes with a sensitive stomach and itchy skin – typical German Shepherd issues, so we avoid corn and wheat and try new foods and treats with caution.  So when we find something that works, we stick with it.  In that vein, last year's pet favorites are still this year's.
I'm constantly on the search for the best pet food I can find/afford, and after reading ingredient lists, reviews, recall reports and customer testimonials, I've decided that Newman's Own Organics is still the best for our dogs and cat.  I supplement the dog food with home-cooked turkey, rice, squash, and other dog-safe veggies when possible.
Stella approves of Sam's Yams as well, and they are my favorite dog pacifier.  When they're busy chewing on a dried sweet potato, they are such good, quiet dogs. And we got her an EarthDog Hemp Martingale collar too.  Her's is the Astrid pattern, and it's really cute.
But of the new pet products we've tried, here are my favorites:
Honorable Mention:
Organic Buddy Biscuits – The Sweet Potato Madness flavor is wheat and corn-free.  They didn't agree with Stella's belly (although her she enjoyed them very much), but Argo didn't have an issue with them at all.  The cute gingerbread people shape makes them easy to confuse with people cookies, (I made a point to warn J that they were dog treats when I took them out of their packaging to store them in an airtight jar), but the ingredients are few and simple (and 95% organic), the treats are made in the USA, and all the ingredients are grown in the USA.  I probably won't buy them again, because it's hard to have separate treats for both dogs, but if your dog doesn't have the most senstive stomach the world has ever seen, these might be a good pick for you.