Posted on
January 6, 2012

by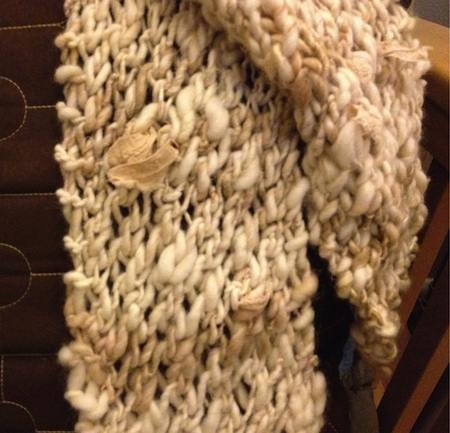 Something about the cold, dark winter days puts me in the mood to make things.  I've been knitting a scarf for myself out of handspun yarn made from wool, linen, and recycled antique lace that I ordered from SnowberryLime last year.  It's amazing how a little time to knit and a good cup of tea can make being chased in by the cold feel like a luxury instead of a punishment (at least for a little while).
I've noticed in my search for links this week, lots of people seem to be feeling creative too.
Dianne is making honey butter.
Crafting a Green World has clever ideas for old t-shirts.
Books Lists Life made the most adorable castle out of an old card table.
Design Sponge has plans for a wall-hanging organizer made from recycled cardboard.
Crunchy Chicken makes mozzarella.
Are you feeling crafty?  How do you drive the winter blues away?