Posted on
November 14, 2008

by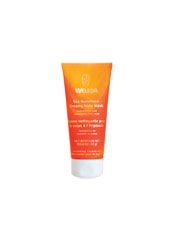 I'm not sure what a Sea Buckthorn is, but I know I like it.
I helped Neil get some donations for his Yoga Dollars program, and Weleda came through for him in a very big way.  We were both blown away by their generosity.  Neil gave me some of the Sea Buckthorn Creamy Body Wash as a thank you for helping him out, and I have to say, it's heavenly.
It doesn't lather much, but it distributes well, and has a luxuirous feel.  We have somehow associated lather with clean, and the two things really aren't related.  I like to pack light, and used the body wash to wash my face and take my makeup off while I was away last week.  It worked wonderfully in that capacity too.
Neil said that it smells like a creamsicle, and I have to agree, although, I want to add that it's not cloying or fake smelling in anyway.  The scent is uplifting and cheery, and a great way to start the day.  I highly recommend it, and plan on purchasing it in the future.
Oh, and I just looked up Sea Buckthorn.  It's a shrub that grows in China and Russia, although it's also being farmed in Canada now.  It helps fight errosion, and has a high vitamin C and flavinoid content.  You learn something new every day, huh?
You can find Weleda products at Target and a wide selection of other stores.
I'm giving away travel sized Weleda's Sea Buckthorn Creamy Body Wash to five randomly selected commenters.  Sign in with a valid e-mail address to leave a comment.  I'll close the comments on Sunday and announce the winners on Monday.  Comments that appear to be spam will not be counted.  The only stipulation is that if you win, you have to tell three friends (on the honor system) about Neil's fundraising efforts for The Cambodian Children's Fund.