Posted on
May 2, 2008

by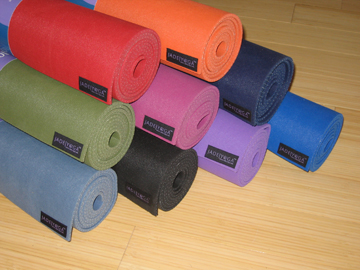 I was ready to be a green yogi. I was using a yoga mat that was as old as my practice, and it had two large holes where I had placed my feet for ten-thousand downward facing dogs. Unfortunately, though, every time my feet dug into the mat, it was digging up phthalates, which is the plasticizer used in products like nail polish, flooring material, and sex toys. Many mats like this one were made of these kinds of harmful materials, and I wanted to get a mat that was non-toxic, wouldn't harm the environment as it decomposed, and didn't remind me of flooring material.I bought a yoga mat made of jute fibers, which is the natural fiber of burlap, and Polymer Environmental Resin (PER), which is a material that doesn't contain phthalates and is thus more sensitive to the environment and one's health. This jute/PER mat even looked the part, as its color was that of sand or tree lumber, and not the flashy color of nail polish.
Then, I made a series of discoveries. After unrolling my mat to begin my practice, I noticed how the end of the mat didn't so much as flop flat onto the floor but instead unrolled slowly, still sticking up at the end as I began my poses. As I went to step out of mountain pose to move into a low lunge, I almost took the front of the mat with me because the sole of my foot stuck to the surface. This sticking might have happened in mountain pose, but as I practiced downward facing dog, my hands and feet paradoxically moved away from each other, making it impossible keep from slipping. This jute/PER mat, so friendly to the environment and my health, was the worst yoga mat I had ever used.
I wanted to be green with my practice, but not if it was going to be at the expense of feeling joy or a having a cordial relationship with gravity. One day I was taking a class with a friend of mine, who is so green she has found a way to recycle tea bags, and I took a break from watching my mat unroll to notice that her mat was a tepid mauve color, sort of reminding me of nail polish.
"Why aren't you using an eco-friendly mat?"I asked her.
"This is eco-friendly," she said, "It's the Harmony Mat by Jade. It's made from rubber trees. All natural."
"Really?" I asked. I felt the mat. It was thin, it provided a nice cushion, and it had flopped onto the ground when she laid it down.
"It's the best mat ever," she continued, "I can fold it up and put it in my shoulder bag instead of having to roll it up like everyone else."
I decided to give the Harmony Mat by Jade a try.After one session on my black, non-mauve, and non-girly Harmony Mat, I was sold. It didn't take the better part of my practice to uncurl, my feet didn't stick to the surface, and the rubbery surface ensured that I never slipped even once. While my friend's mat was 1/8″ thick and was quite easy to fold and put into her bag, mine is 3/16″ and is a little trickier to manage if I've also packed my laptop, water bottle, and a novel. However, it does exactly what I wanted it to do, which is be safe for the environment, be safe for myself, and not remind me of flooring material.
This post is a part of a series of posts by my friend, Neil, (the guy who's working to raise $20,000 for The Cambodian Children's Fund). Click on "Neil's Cambodia Challenge" in the sidebar to read more.