Posted on
May 25, 2007

by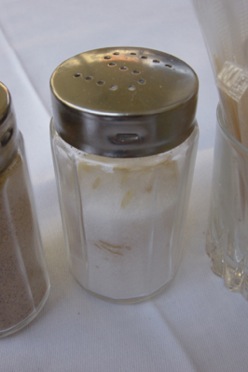 A few weeks ago, I was watching Oprah and Dr. Oz was on. He said that the best way to clean an open cut is with warm salt water. It will flush out the bad bacteria and leave the good bacteria to do it's job. The antibiotic creams and other chemicals we normally use to clean a cut kill the good bacteria along with the bad bacteria, so it takes longer for the cut to heal.
Well, a couple days ago I grated my thumb on the cheese grater. Ouch! I remembered Dr. Oz's tip and flushed it with warm salt water. It's almost completely healed.
Unfortunately, grating my finger is my most common kitchen injury, so I can attest to the fact that salt water helped it heal much faster than using an antibiotic spray or cream.
Obviously, if you have a very large cut or a puncture wound, you'll want to see a doctor, but for small scrapes and scratches, give warm salt water a try. You'll avoid using products that come in complicated packaging. It's a cheap fix, and you can't get much more natural than salt.