Posted on
January 22, 2008

by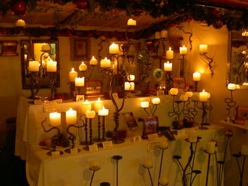 If you light candles in your house, you'll know that there's a point where there's still wax left, but the wick is gone.  Recycle the wax and make new candles!
I've done this a few times before and it's a lot of fun.  You can make new candles in jars, old tea cups, or small bowls.  It's a great use for thrift store china, or your favorite mug that ended up with a chip at the rim.  It's also a nice way to dilute the scent of candles that are a little too strong.
The way I melted down the old wax was a little fly by the seat of my pants, make it up as I go along, so I did a little digging and found real instructions for you.
Envocare has some very detailed directions.
Fabulous Foods has great ideas on scenting your recycled candles, and a neat idea for making fire starters.
CandleHelp has play by play photos of making votives and tea lights.
And here's a candle craft that uses old crayons.  I remember this one from second grade.  I believe you can also use crayons to color regular wax candles.
Recycled candles make great gifts, but you might have a hard time parting with them.