Posted on
September 21, 2009

by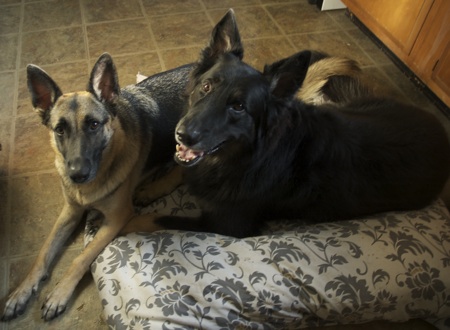 Previously, I posted about how I use old blankets as dog beds, instead of going out and buying fancy new ones.  I upgraded recently, by making simple covers, and it's made a big difference.
I hated how sloppy the blankets started to look once Argo and Stella pawed at them and they shifted around.  I picked up some bed spreads on clearance at Target last year for $4 a piece, but if you have old sheets, those would work great too.
I smoothed the sheet out on the floor with the right side facing me and then folded over both ends once, so they were overlapping just slightly.  Then I pinned and sewed up the sides, making what is basically a giant pillowcase.  It took me all of 20 minutes.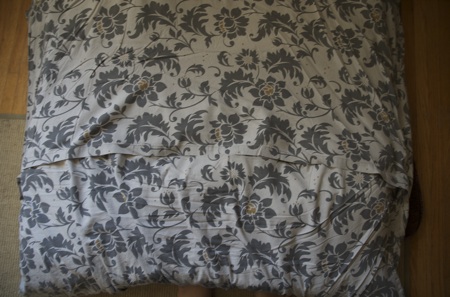 To make the bed, I folded an old comforter into fours and stuffed it in the pillow case.  You could add buttons or ties at the opening to keep it closed, but I find it works great without.  Even after Stella and Argo wrestle on them, these beds still look pretty neat and presentable.
The best part is how easy it is to wash them.  I throw the covers in the wash once every week or two, and the comforters in the wash once a month.  I can squeeze in an extra blanket if one of them starts looking thin.  And it's really easy to replace one of the components, if necessary without replacing the whole bed.  It's a great way to make use of old blankets or sleeping bags once they are past looking pretty.
You don't have to limit yourself to dog beds.  These would make great floor pillows, too.