Posted on
October 10, 2011

by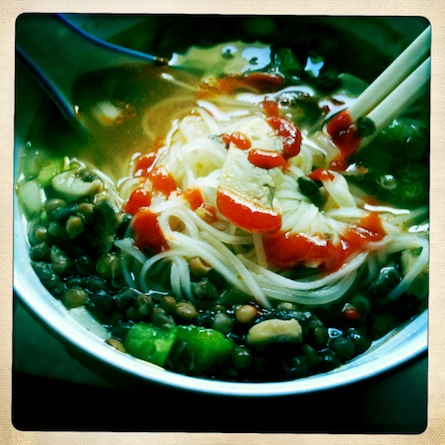 As soon as we start to get a chill in the air, I become a comfort food addict, and nothing hits the spot for me quite like a big bowl of noodle soup. This is one of my favorite quick meals. You can use single serving packets of noodles if you're making a meal for one (I like Thai Kitchen Lemongrass & Chili), or make a batch of rice noodles and use vegetable broth if you want more servings and less packaging.
The secret to turning this simple soup into a meal is to add fresh, frozen, or canned veggies to dress up the noodles and broth. It's a great way to use up appropriate leftovers. Sometimes when I'm making dinner, I chop up some extra veggies to save for soup for my lunch the next day.
Add adzuki beans, lentils, or TVP for protein. It's such a filling and satisfying meal, that you won't even miss the meat.
To add variety, I also mix and match ingredients like:
Fresh basil
Fresh cilantro
Mushrooms
Lentils
Green peppers
Jalapenos
Onion
Fresh lime
Spinach
Bean sprouts
Grated radish
Fresh ginger
Crushed red pepper
Julienne cut string beans
Bok choy
Shredded cabbage