Posted on
May 7, 2012

by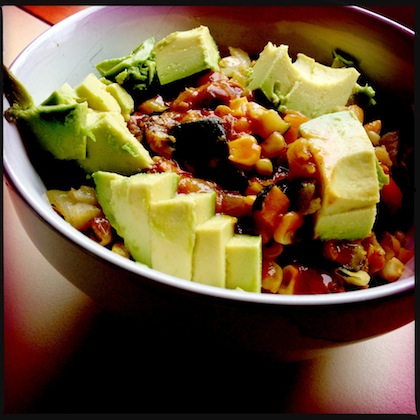 We are not strangers to the wonders of rice and beans here at The Greenists.  When it comes to meatless meals, it doesn't get much more simple or inexpensive.  Combined, rice and beans provide a complete protein as well as essential nutrients and soluble fiber.  Plus, they're easy to make and super yummy.
To take the stress off meal time, we've been making a big batch of rice and beans a few times a week and planning our meals around how we can dress them up.  Calabacitas are my favorite addition and so easy to make.
I soak dried beans overnight.  I do two packages at once and like to combine small red beans and pinto beans.  I brown one chopped onion in olive oil in the bottom of a big pot and add the beans and water to cover them, bringing the whole thing to a hard boil for a few minutes.  After boiling, I transfer them over to my crockpot and cook on high for four hours before taking it down to low for another three or four hours, until the beans are soft.
While the beans simmer in the crockpot, I add salt and spices like turmeric, cayenne pepper, chili powder and ground coriander, and a pinch of baking soda to "de-gas" them.  I also add vinegar and 1/2 a bottle of (gluten-free) beer.
I know this sounds involved, but two bags of beans will last us most of the week, so a little bit of effort on a Sunday afternoon has a great payoff.
When the beans are close to done, I boil up a pot of rice, pre-heat the oven to 450 and get started on the calabacitas.
My calabacitas recipe usually looks like this:
1 zucchini
1 yellow squash
1 large onion
1/2 package of frozen corn
olive oil
I cut the zucchini, squash and onion into small squares and toss them in a bowl with some olive oil, adding the frozen corn (still frozen) to the mix. Then I spread out the mixture on a cookie sheet and cook at 450 until well browned, stirring as needed.
Serve the calabacitas over the rice and beans.  I like to top with a liberal dose of hot sauce and avocado, if I'm feeling fancy.  While the rice and beans stay good for several days, I usually only make enough calabacitas for two meals, and make them again, or add something else to the beans later in the week.
The best part?  A hearty bowl of rice, beans and veggies works out to less than two dollars per bowl!  Having an easy meal ready to go in the fridge has cut down our grocery bill significantly.  No more frozen dinners!  And takeout is back to being a treat and not an act of desperation.
What's your favorite quick and easy go-to meal?