Posted on
May 5, 2008

by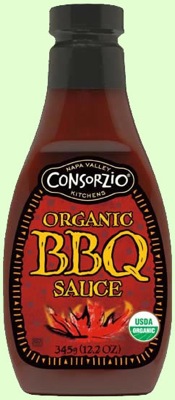 So many people complain to me that they don't like the taste of tofu. The funny thing about that is that tofu pretty much ends up tasting like whatever you put on it. And it makes a great vehicle for BBQ sauce.
Lately, I've been working on a big project, and I'm all about simple meals, so this sandwich recipe from The Veggie Table is perfect. You can eat it plain or dress it up with roasted or grilled veggies (I think grilled peppers and BBQ sauce are a perfect combo), and soy or regular cheese. This sandwich has strong flavors, but tofu isn't one of them.
Look for a sauce that is free of high fructose corn syrup. This one uses brown sugar instead of HFCS, but there are some great organic sauces (like the one pictured above) out there as well.
If you're like me and you need a gluten-free bread option, check out Dianne's recipe.