Posted on
April 25, 2011

by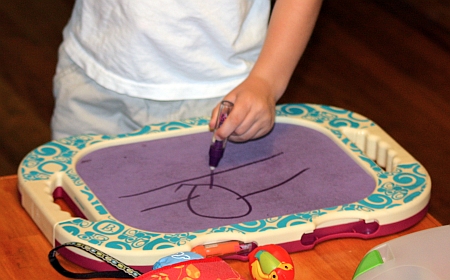 B. toys sent a few items from their line to me recently for review. Actually, they weren't really so much for me as they were for my 3-year-old son. From the wide range of toys made by the company, we received the H2-Whoa, the Stackadoos, and the Okideoke. One of the positive things about B. is they really focus on creating greener packaging. In addition to using recycled materials for the packaging, soy-based inks and water-based varnishes, the company really minimizes just how much packaging is used for each product. Most of the packaging for the Stackadoos we kept to store the bristled building blocks together when we put them away. The Okideoke toy microphone's packaging is actually reversible so that the box turns into its own gift wrap. I really liked that feature. After unpacking the three items, we had a smaller pile of stuff to throw away than we would normally from just one toy.
Our favorite toy was by far the H2-Whoa. This is a two-sided easel that can be drawn on with special pens that you fill with water. The flow of water from the pens is so light that they barely even feel damp when you touch them to your skin, but they darken the drawing surfaces on the easel clearly and neatly. Wait a couple of minutes and the drawing disappears. The disappearing part might drive a serious artist crazy. If you're doodling anything really complicated, parts of the drawing are already beginning to fade away before you finish the drawing, but I can say that with my son, that didn't matter in the least. He's not concerned about saving the work. He just likes being creative. This toy has been with the kid all weekend and he's still fond of it. Honestly, his parents have been playing with it a bit as well. Removing the ink and paper from the art is definitely a way to green up your kid's art and the fact that the water pens are refillable makes it even more so. I do wonder how long the tips of the pens will last, however. I know my son has a tendency to bear down pretty hard on the poor things, but they've held up so far. The pens themselves seem sturdy but the tips seem to be just a denser version of a typical felt-tip marker. Despite my reservations, they've held up well over the last few days of constant use and I can't say that my son has always treated them delicately.
It doesn't hurt that the entire line of toys has a very cool look to it. These are very well designed toys so you can buy them for the reduced packaging or you can buy them because they look cool.