Posted on
September 3, 2009

by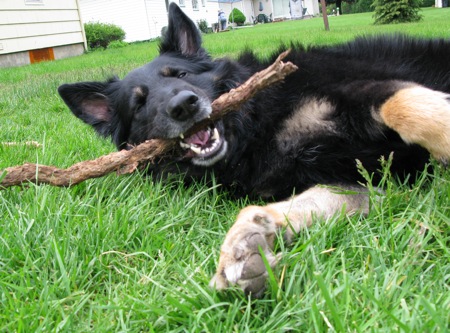 I get lots of  questions about dog waste disposal.  Dog waste can carry a wide range of bacteria and parasites.  Leaving it where it lies isn't an option, but what should we do with it?
According to the Snohomish County Public Works: Surface Water Management Program the easiest, safest way to deal with dog waste is to tie it up in a plastic bag and throw it in the trash.  It sounds counter intuitive, but waste management systems are better able to deal with dog waste in a way that protects our waterways.
Composting dog waste bags might sound like a great idea, but composting bags produce methane in landfills, and should be used only for materials you will be composting.  However, you do not want to compost pet waste.  Home composting processes do not necessarily heat up enough to kill the pollutants in pet waste.  Doggie septic systems are quite fallible, with variables like temperature and water table levels adding to product failure.  There is an electric pet waste composting unit that is designed to bring the waste to the appropriate germ and parasite killing heat, but it comes with a $400 price tag, and probably isn't an option for most people.
If you don't have a private septic tank, and are on a public waste system, you can flush dog waste down the toilet.  There are even special flushable waste bags to help you do so.  Cat waste is a different story, as Toxoplama gondii can apparently survive through sewage processing and pose a threat to marine mammals.
Whether you decide to bag, flush, or buy an electric composter, make sure you pick up dog waste promptly, so it doesn't have time to leach into the soil.  It's a good thing dogs are cute, huh?