Posted on
February 21, 2011

by

Please welcome today's guest poster, Jamison.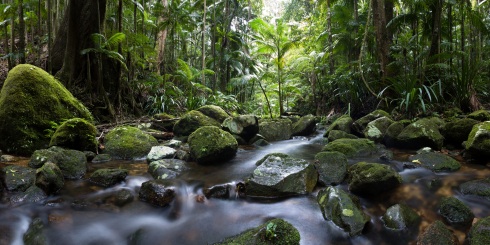 On the surface this may seem like a silly question, but the motivations that leads a person to environmentalism can be extremely different. My wife and I are perfect examples of this. Being a Greenist, she comes to environmentalism from an extremely different approach.
Environmentalism is a natural outgrowth of her genuine concern for human beings and animal life on the planet. She works on the problem with the same sorts of motherly instincts I've seen her apply to my daughter as she's teaching her. Calm and understanding, always willing to lend a hand to the cause while at the same time always looking for a way to help others along to the path to a better life. While I deeply respect the work she does and the approach she takes, I have to say most of the time it leaves me dumbfounded.
I spent years getting a degree in Sociology and studying how people work as a society. Those years of reducing human beings to nice warm fuzzy numbers sort of left me more than a tiny bit cynical about human nature and human potential. Which makes my approach to environmentalism completely different. I don't spend too much time worrying about the fates of the cute fluffy animals of the world. I worry more about the genetic diversity required to sustain human life and evolutionary potential. I don't lose sleep over how to feed the geometrically growing human population, but instead focus on how to stop the geometric growth part of the equation. I'm a strong believer that environmentalism is critical for protecting the nation as a whole. It has slowly become woven into my own form of hyper-patriotism. I'm an environmentalist because at the core of my DNA, I believe that humanity must survive into the future and environmentalism is the only way I can see that occurring. For me it's just an equation and formula that needs to be executed to save the species and I want to make sure that happens. 
As we debated what "real" environmentalism is this morning, I started thinking about the breakdowns between the types of environmentalists that I'm aware of and was curious if any of you knew of any more.
The True Treehugger – People who have found a true oneness with nature. Your Emerson or Thoreau Types that truly live on Waldon Pond. The Transcendentalists that, amusingly, influenced me down the path I'm on from my high school days.
The Regular Treehugger – These are the true believers that still live their lives with us mortals, but manage to somehow make time and have the energy to try to save the world from itself.
The Militant Treehugger – These are your eco-terrorist types at worst, tending to get focused on a single aspect of environmentalism and taking the response to that perceived threat to the extreme. Or are willing to ignore other greater environmental advantages for the sake of their singular focus.
The Environmentalist – These people apply their knowledge and skills to the problems of the day and work to educate people on the right things to do. They apply these changes usually with great efficiency to their own lives.
The Practical Environmentalist – These people tend not to focus on environmentalism, but instead focus on a limited number of ways they can take steps to make the world a better place. They recycle, conserve and reuse where practical.
The Half-Hearted Environmentalist – This is where most people live, environmentalism is an afterthought in their lives. They recycle because they'll be fined if they don't and they conserve because the return is high enough to make it profitable.
Anti-Environmentalist – Usually this is a result of conflicting interests (jobs, investments, politics, etc) or a genuine lack of knowledge about the issues at hand or both. These are the people that organize efforts to make environmentalism less appetizing to the rest of the population.
The World Haters – This is an extremely tiny division, but there are certain people that just hate the planet and everything on it. Anything that suggests saving it just offends them completely.
Those are the ones that are right on the tip of my brain when I think about the breakdowns between each type of environmentalist I've come across in my years of experience. So do you think there are more divisions in the Environmentalist family tree? What kind of environmentalist are you?