Posted on
October 12, 2011

by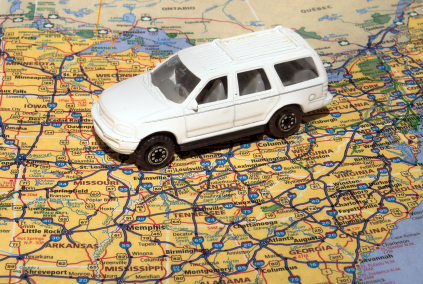 If you've been following The Greenists for awhile, you may remember that I was on a quest to replace The Crapmobile, my low-end compact SUV, with a vehicle that would be affordable, fit two large German Shepherds in the cargo area, get reasonably good gas milage, and be an all-round nice to drive, reliable way to get from point A to point B.  After months of research and test drives, I was starting to feel like I'd have an easier time finding a unicorn to ride to the grocery store.
Because I believed I'd need to replace my SUV with another SUV to get the kind of room I needed for the dogs, my car research turned up dead end after dead end.  I'd get excited about a certain SUV, only to see it in person and realize that despite it's gargantuan size, there was barely any space behind the backseat for the dogs.  Plus, I didn't want to drive something enormous, and I didn't want to pay an arm and a leg for a car, or for gas.
And then, it dawned on me.  Hey, remember those things people drove in the 80′s and early 90′s before SUVs?  You know, those cars with the big back ends?  Yeah, those things.  Station wagons!
You guys, we need to bring back the station wagon.  It is a brilliant, brilliant vehicle format.  My new car gets way better gas milage than The Crapmobile, is easy to park, fun to drive, has all sorts of great creature comforts, and plenty of room in the back for the dogs (more than my compact SUV had).
I can hook seatbelt harnesses to the car seat anchors in the trunk area, so I don't even need a heavy, noisy dog grate anymore, and my dogs are safe and secure.  I gave up four wheel drive, but a lower profile, excellent IIHS crash ratings, plus traction and stability control, means that I feel much safer in my new two-wheel drive car than I ever did in my old four-wheel drive vehicle.  And, since the seats fold down, I have enough room to haul large purchases (we fit a tree in my car last month!).  The back seat area is perfectly roomy and comfortable, and the front seats are brilliant (and heated!).  And all of this for a starting price that is ten thousand dollars less than the "affordable range" SUVs I'd been researching!
I love my car.
Since I firmly believe that everyone buying a car should do their own researching and test driving, I won't tell you which station wagon I ended up with, but I will give you a few models to consider:
Starts at $15,995
MPG 23/30
Cargo volume (cu ft): 24.3 w/ seats up, 65.3 w/seats down
Fun options: iPod ready stereo, heated seats, power sunroof
Starts at $19,995
MPG 24/31 (TDI gets 30/42)*
Cargo volume (cu ft): 32.8 w/ seats up, 66.9 w/seats down
Fun options: Panoramic sunroof, heated seats, navigation, Bluetooth, MDI interface
Starts at $18,720
MPG 22/32 (FlexFuel option)
Cargo volume (cu ft): 57.7 (maximum, 24 seat configurations)
Fun options: OnSTAR, Bluetooth, rearview camera, USB port, sunroof
I'm hoping as people become more fuel & cost conscious there will be an even greater array of station wagons to choose from in the coming years.
*Research tip – Consider diesel prices and research
TDI fuel-pump flaws
 when deciding on engine type.