Posted on
April 19, 2012

by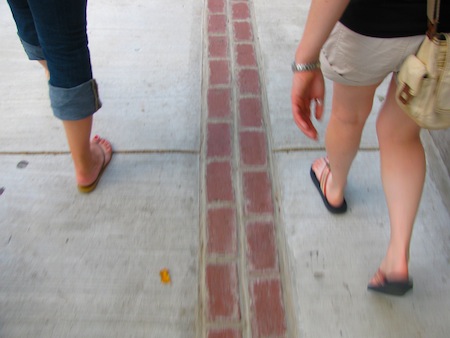 The lady and I were house-shopping recently, and it didn't take long for me to figure out where my priorities were. Reading the real estate listings, you'd be forgiven if you came to think of ceiling height, closet space and quarried countertops as the most important factors in choosing a home. But I realized that, as we were driving through various nearby towns and their neighborhoods, that I'd been almost unconsciously taking mental notes about the sidewalks, or lack thereof, and distances to transportation hubs and amenities. When we started the hunt, I'd been primarily concerned with the age of the roof and the ability of the yard to support a garden, but now I found myself eliminating a house before we even saw if there wasn't a sidewalk along the main road to the subdivision. 
Last week, Slate ran a four-part series by Tom Vanderbilt, the first installment of which was called The Crisis In American Walking. It explored the fact that, relative to the rest of the world, we don't do a whole lot of walking anymore, which can be explained pretty easily: We no longer have anyplace to walk to. Sure, we've got lots of places to go, but we've engineered our lives and our world to be navigated exclusively by car. We often can't walk someplace even if we want to.
Where the lady and I live now is a perfect example. We chose our current apartment due to its proximity to the city and a freeway. There are also sidewalks, although they frequently end for no apparent reason (at which point a well-worn dirt path always assumes the burden, proving the need for the non-existent pavement.) Our apartment complex sits amid a big wad of similar developments, all surrounded by barbed-wire-topped fencing, as if Spalding Bridge is going to raise arms and mount a surprise offensive against The Residences at Morgan Falls if the latter is left undefended. Of course, apartments are where you find the vast majority of people who rely on their own two feet and public transit to get around, so the effect of all that chainlink is to turn what should be a one-mile walk to the nearest grocery store into a 2.5-mile flanking maneuver (or at least it would be, if not for that enterprising trailblazer with the wire cutters; I give thanks to this nameless hero every time I go through that well-used hole in the fence.)
All of this just illustrates how little we plan for any kind of pedestrian travel, even in areas populated heavily with the car-less. The third part in Slate's series on walking described a company that attempts to quantify the walkability of a city or specific location: Walk Score. Through the devil's magic of algorithms, Walk Score assigns a number to a place based on the distances to nearby things like coffee shops, stores and parks. The Mission district in San Francisco scores a 96 out of 100. The Atlanta exurb where my parents live gets a 5.
The house that we eventually settled on and will soon occupy falls between those extremes, at 46, which is actually an increase over the more densely populated area we're in now. Of course, part of the reason our cities and suburbs are so pedestrian-unfriendly is because of the desire of people like us to own houses with yards, which serves to spread everything out, necessitating all those roads and the cars upon them. We won't be able to walk to too many places, at least not quickly, but the deciding factor for me was the bikeability of our neighborhood, which connects to a major pathway system that will allow us to ride our bikes to many restaurants, movie theaters and a shopping mall on dedicated bike paths.
After I started thinking about the problem of walking in America, it occurred to me that the simple act of walking may very well solve all of our problems. If we all lived in walkable neighborhoods, the obesity epidemic and all of its associated maladies (heart disease, diabetes, etc.) would virtually disappear (Don't believe me? Go to Europe or Japan and try to find a fat person. Also notice all the walking going on.) Less driving would mean less pollution, less money spent on roads and less dependence on oil. Less dependence on oil would mean… well, I'm sure you can see these dominoes just keep falling. And all for a little walking. It sounds like exaggeration, but think there's really something to this.
So what's your Walk Score?