Posted on
November 1, 2011

by

Please welcome today's guest poster, Jamison.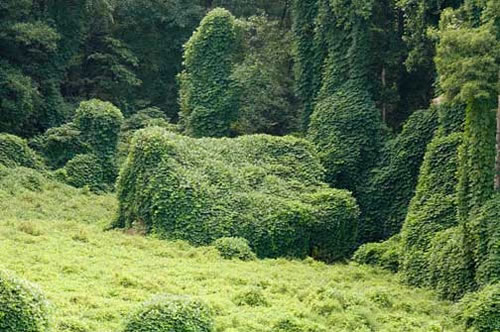 Image credit: theresilientearth.com
If you aren't from the South, you're probably completely unaware of kudzu, but down here it's referred to as the "plant that ate the South." A few decades ago, Southerners were having trouble with erosion, so they found this awesome quick-growing plant from Japan. And man, did it work like gangbusters — it grabbed onto the soil and held everything in place. And then something unexpected happened: it tried to take over the entire country. It killed off trees and even tried to overtake people's houses. The stuff couldn't be stopped easily.
For years, scientists have tried to turn lemons into lemonade with this plant. They've actually made some fairly decent progress. Lately they've started looking at it for bio-fuel feedstock, hoping to turn an ecological disaster into a vast source of fuel for the country. Unfortunately this story isn't going to have a happy ending. 
Like with all invasive species incursions, nature finds a balance with things. In kudzu's homeland there is a voracious predator that matches its grow rates and keeps it in check. Megacopta cribraria is the scientific name for it. So a few years ago, this bug showed up in the middle of Georgia, but no one is exactly sure how. Ignoring that extremely red-flag-raising event for the moment, the "kudzu bug" started chomping away on the kudzu.
This is where being an environmentalist gives you a different view on things — it doesn't take very long watching these kinds of situations to realize that this story is going to end really badly for us. The kudzu bug found a tastier plant growing in large mono-culture fields that is a legume, just like kudzu. It happened to be the southern soybean crop, which relies on heavy diets of chemicals and nutrients, allowing them to create impressive yields. In the two or three years scientists have been tracking the kudzu bug, its range has gone from one Southern state to four Southern states. There appears to be no range limitations for the kudzu bug in America. They seem to migrate back and forth between kudzu and soybeans, consuming whichever one is growing better. Now it's just a matter of time before its range expands to include the largest soybean producing states in the country.
So what are we doing about it? Well, there are two vectors being used to attack the problem, both of which will do nothing but offend sensible people. Vector one: the chemical companies are looking for a new poisonous insecticide that will be effective against the kudzu bug, even though most existing insecticides are having a very limited effect. The other vector is to look at the kudzu bug's natural predator in wild: a kind of wasp. But nature, as always, will adapt to a new environment. (In their defense, compared to 20 or 30 years ago, companies are actually doing extensive testing before releasing it into the environment randomly, not that I expect that will yield different results.) I imagine in a few years a new vector will appear, just in time: a Frankenfood alternative version that the kudzu bug won't eat. The bad choices abound.
So what are some of the good choices? The most obvious solution is a quarantine zone. Basically no legumes would be grown or harvested in the affected region so as to reduce the spread of these bugs via harvesting equipment to other regions. This will likely slow their migration down a bit. Unfortunately their spread through the natural kudzu will not make this a cure-all. And then we have the challenge of what is going to fill the legumes' spot in the crop rotation cycle. As Allie has mentioned many times before, Hemp might be a good substitute, if not for the political demagoguery surrounding it. So what else can can we do with this situation that will serve the environment in the long term?