Posted on
March 11, 2009

by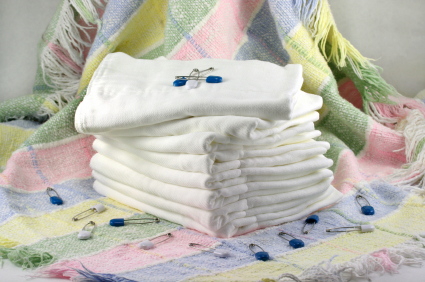 According to National Geographic, the average child uses about 4,000 disposable before hitting the toilet training stage.
You'd think this figure would clearly mean that cloth diapers are the way to go.  But when I looked up family cloth for yesterday's post, I stumbled across an article from Times Online.  The article says a study done by The Department for Environment, Food and Rural Affairs in Britain didn't deliver the expected answer.  The results were so surprising that there was even an attempt to sweep them under the carpet.
From the article:
The report found that using washable nappies, hailed by councils throughout Britain as a key way of saving the planet, have a higher carbon footprint than their disposable equivalents unless parents adopt an extreme approach to laundering them.

To reduce the impact of cloth nappies on climate change parents would have to hang wet nappies out to dry all year round, keep them for years for use on younger children, and make sure the water in their washing machines does not exceed 60C.
But, according to the study, even with line drying, cloth diapers still have a bigger carbon footprint than disposables.
I'm not a mom, so I don't really know anything about diapers, but if you're interested in researching some disposable diapers that are eco-friendlier, check out gDiapers and Seventh Generation.
If the findings of this study correct and the article's allegations of the study being swept under the rug are true, I think it's very sad.  It's more important to look for lifestyle options that will actually lesson our carbon footprint than it is to look for options that give the appearance of being eco-friendly.  I think when it comes to being green, we all need to make a commitment to doing the best we can, and continuing to make adjustments as we learn more about best practices.  It's okay to to say, "Hey, we used to think this was the best way, but now that we know better, we're going to do better."
I wonder where "family cloth" figures into this.  Does the energy consumed in washing those rags negate the benefits?